Sound Meditation Gong Concert with Mike Tamburo October 2023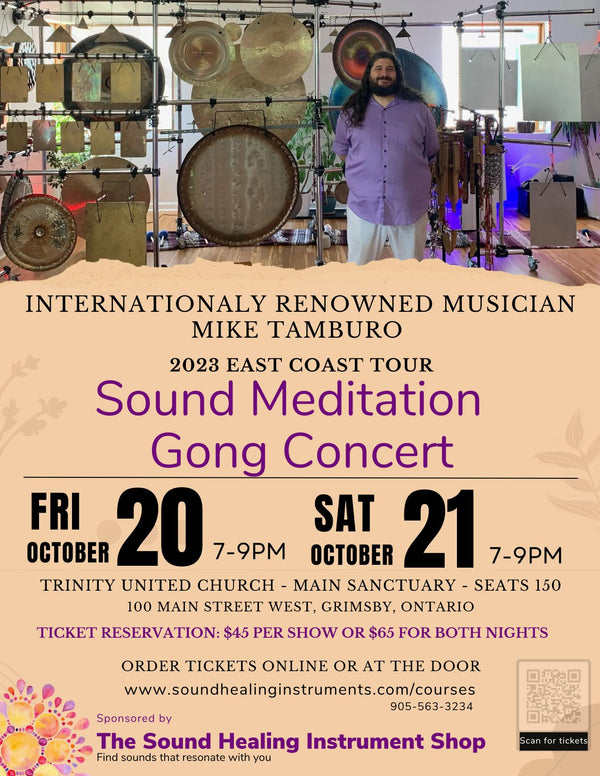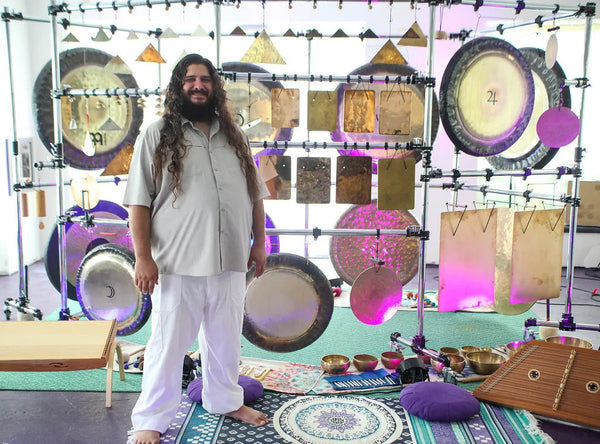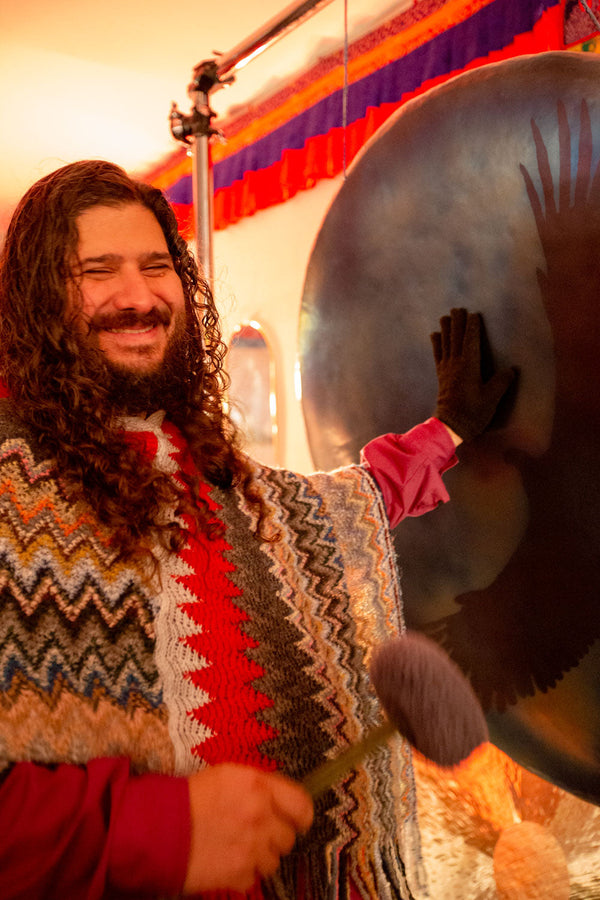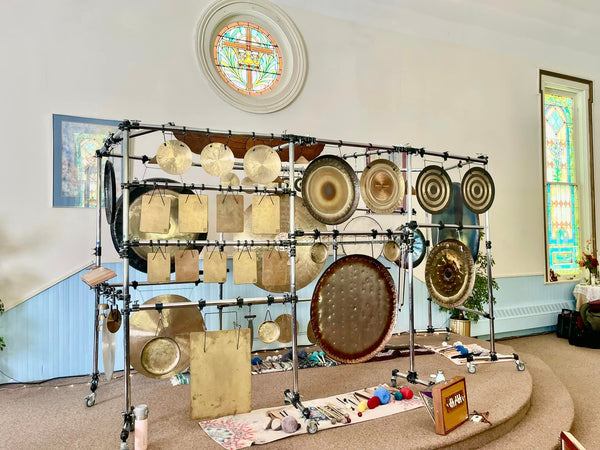 International renowned Gong Musician Mike Tamburo is coming to Canada as part of his North American FALL East Coast Tour.
Allow yourself to enter a timeless space of listening as Crown of Eternity's Mike Tamburo orchestrates his way through 40+ overtone rich instruments including Gongs, Bells, Hammered Dulcimer and tuned metal instruments. Listeners have described Mike Tamburo's music as an adventure in listening; sonic bliss; a deep and lasting vibrational rejuvenation for body and soul; a profound aesthetic experience; a journey through the senses and a perceptual rollercoaster. Allow yourself to be still and listen.  Check out some of his videos along with the images above.
Each night, Mike performs a different concert. Come for both concerts and have a great time. Some people like to watch one concert and relax and close their eyes for the other concert.
Friday October 20: Mike Performs 7 pm to 9 pm
Saturday October 21: Mike Performs 7 pm to 9 pm
Doors open at 6:45
You do not need to bring proof of payment. Your name will be on a list at the door and you can check in that way. 
This year, the concert will be held in the very beautiful Trinity United Church's Memorial Hall, located at 100 Main Street West, Grimsby, Ontario, L3M 1R7
There will be room for 50 people to lay on the floor. Be sure to bring your mat, blanket and pillow. If you need a chair to sit on, please send us an email and we will be sure to set one up for you.
CLICK HERE TO READ HOW WE MADE THIS HAPPEN
Earlier in the fall of 2022, Ivan and I went to Pennsylvania for the Internationally renowned 10 day Gong Camp led by Mike Tamboro and Mitch Nur. Students came from Italy, Mexico, across Canada and the USA. It was intense and wow, we learned so much. It was such an exciting time, we knew we wanted to share it with everyone here in Southern Ontario.
We knew that Mike travelled the USA teaching workshops in different cities every week, so we invited him to come to Canada and he said YES!

... and so... we are excited to offer these two evening concerts as well as a The THE CANADIAN GONG EXPERIENCE, a five day intensive gong workshop that is great for all levels of players.  There is always something new to learn. As well as learning the gongs for three days, Mike will be performing two concerts, one on Friday evening and one on Saturday evening.  The evening concert tickets come with the workshop tickets, but for those people who only want to attend Mike's performance, tickets can be purchased here.
CLICK HERE TO READ All About Mike

Mike Tamburo is a world-renowned musician, composer, artist and educator. He is known and loved for his transformational live concerts performed on his personally curated set of gongs, bells and other metal instruments. 
A lifelong multi-instrumentalist, Tamburo has focused his talents on metal percussion instruments, string instruments (hammered dulcimer, guitar, zither, shahi baaja), as well as electronic instruments (synths, looping). 
Since 1994, Tamburo has shared more than 2,000 concerts and workshops. He has recorded over 70 albums, both solo and in collaboration with Crown of Eternity, Meisha, Arco Flute Foundation, Psychic Frost, Brother Ong and more, ranging from epic gong music to ecstatic and transcendental string music, as well as folk, drone, space rock, ambient, mantra music and sometimes unclassifiable sounds. This man loves music in all its forms! 
He teaches gong music, both in person and online with School of Gong. He is also a part of the far-reaching ethnomusicology trio, Dig Deeper, with Mitch Nur and Thomas Orr Anderson. Their online classes have explored countless musical concepts with a focus on the cultural and personal uses of sound for healing, meditation, trance, ecstatic states, relaxation, self transformation, perception, psycho-acoustics, scientific discovery, time and community. 
An early adoptee of meditation, Tamburo's music offers space for journeying, self-exploration and deep introspection. During many of his early performances, he experienced altered states of consciousness and out of body experiences. To understand these experiences, he explored kundalini yoga, energy work, the therapeutic use of sound and how sound impacts consciousness, human perception and self healing. His love for long sustained drones, overtones and psychoacoustics continues to inspire him to explore music in further directions. 
Tamburo is also an interdisciplinary sound artist, instrument builder, video artist, sound therapist, writer and meditation teacher.  https://soundseternal.com/