14" & 16" Handheld Heng Gongs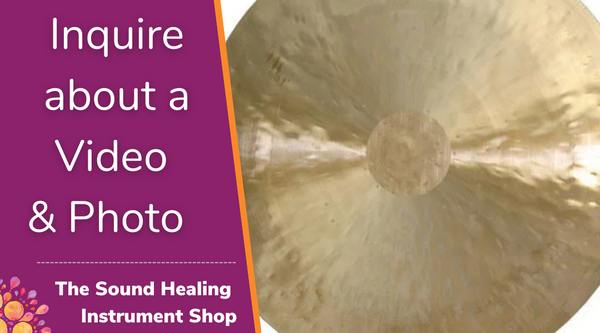 Choose your 14" and 16" Heng Gong by the specific tuning, or just pick one and see what the universe sends you. Either way, you are going to love the high sounds of this tiny gong. 
While this gong comes with a free mallet, we highly recommend you purchase a white or grey bunny tail mallet to bring a softer, smoother sound or a Dragonfly Percussion Baby Bucket mallet  to focus on the lower tone of the gong.
Small hand held gongs are great way to spread the soothing sound around the room. Bring the vibrations to your clients. 
Shipping Costs

These are approximate shipping costs.  Be sure to call us for an accurate rate.
12" to 24" Gong- $55 (Canada Address) & $80 Can (USA Address)
26" to 30" Gong- $85 (Canada Address) & $110 Can (USA Address)
32" to 34" Gong- $95 (Canada Address) & $125 Can (USA Address)
36" Gong- $110 (Canada Address) & $135 Can (USA Address)
38" or larger, please contact us.
Our Guarantee
We want you to be 100% satisfied with your purchase.
If for some reason you are not happy, please call us. We want you to love what you buy, and we are happy to work with you to find the perfect item.
If you want to return or exchange an item, it must arrive to us in the same condition as when it was shipped out.


If you would like to display your gong on a stand, please call us and we can help you decide which stand would be the best option for your purposes. 
Custom Made Gong Stands. These are excellent stands that can be modified as your gong inventory grows. They take only minutes to assemble and are easily transportable. View the Custom Stands here.