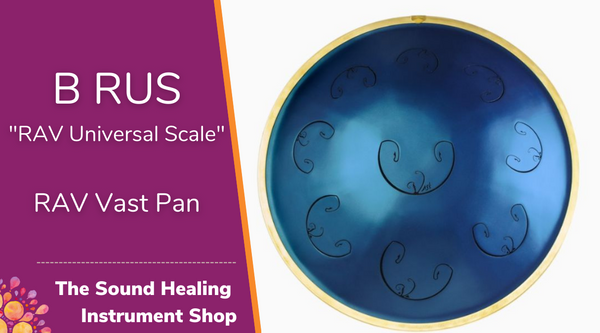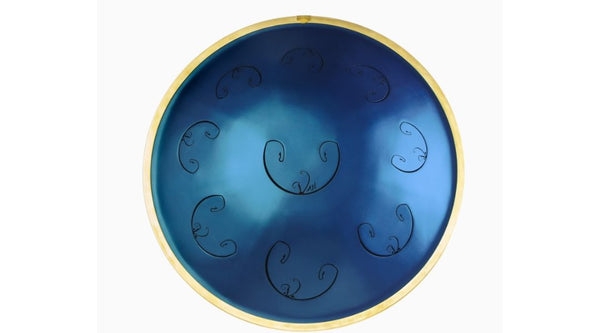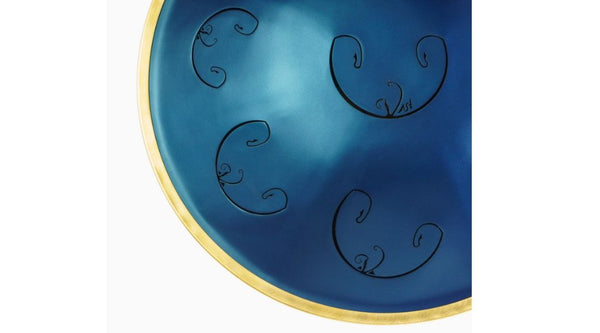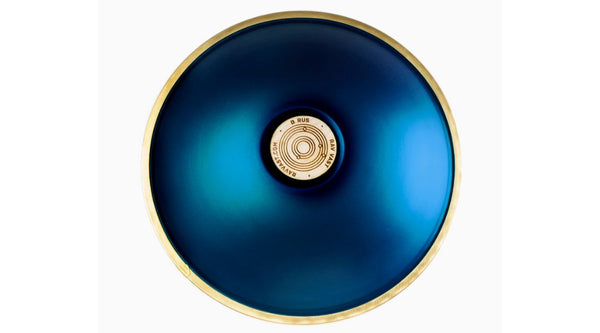 B2 D3 F#3 A3 C#4 D4 E4 F#4 A4
Free shipping in Canada!  Call for shipping rate to USA and abroad.
Book an appointment to come and play at our shop in Beamsville, Ontario, Canada.
The RAV Vast Drum's name speaks for itself as RUS is the abbreviation for "RAV Universal Scale".

If you are searching for versatility and a wide spectrum of sound in one instrument, then you came up for the right scale.
Just like salted caramel, the RAV B Rus combines 2 polar tastes in one, so you can play in both major and minor tonalities. The Ding is tuned in B. However, it provides you an opportunity to play in B minor, D major, F# minor and A major. By simply switching the root note, you can get a completely new melody as if you changed the instrument.
The B RUS RAV Vast gets immediately into a shortlist of both beginners and professional musicians. The scale is easy to deal with, that's why it will be perfect to become your first drum. The pros love it because it can be both played solo or accompany the piano or guitar as well as the other RAV Vasts. The B RUS also is also great if you want to create compositions that involve singing.
You'd like to get a multi-purpose hand drum? Choose the B RUS scale if you want to get the classic sound of the western music culture without ethnic tones. Among all the other RAV Vasts the B RUS has its special place as it's ultimately versatile. It lets you create various types of music and will be especially suitable if you are keen on mixing some modern electronic music. The B RUS has a beautiful tone and is incredibly resonant.
For whom this scale will work?
The B RUS will become a wonderful purchase for the musicians who are just starting out. The scale provides many options for a newbie to learn and keep on mastering the skills after taking the first steps. The note sequence of the steel tongue drum provides an opportunity to create a fine-sounding melody literally overnight even for the first-timers. The sound of this scale is able to make you love the tongue drums even if you neither tried playing the handpan nor are you a percussionist.
Like a pair of jeans that can be a part of casual style, work or worn for a special occasion, the B RUS can easily transform from a solo instrument to a jam session participant. That's why it's called RAV Universal Scale. Another reason why it's universal is because it suits any musician regardless of the mastery level.
It is believed that the handpans work better for professional players while the tongue drums are more for the beginners. However, it's not actually the truth. It, of course, depends on the scale, but the tongue drum provides amazing opportunities for experienced musicians. What about the Hang drum VS RAV Vast B RUS? While comparing these two drums, Hang is obviously much harder to deal with, as it requires more practice and treatment. The B RUS does not require any additional tuning during its lifetime and still provides a lot of room to manoeuvre and create lovely melodies and patterns.
The B RUS is also just a great drum for the teaching sessions. If you give lessons to students, B RUS will be a perfect instrument to demonstrate to them the whole range of the abilities of a steel tongue drum.
What scales go together with the B Rus?

Are you frustrated by the need to choose between major and minor tonality? It's like choosing between chocolate and vanilla ice-cream – almost impossible to do. The RAV Vast B RUS is a real game-changer as you can get two big scoops in the same cone! With the central note giving the minor feel and the bottom note giving the major feel, you can vary in tonality and vary the direction you are moving in your music compositions with this pentatonic drum. Changing the root note, you get a rich palette of patterns.
What kind of music can be performed with the B Rus?
The usual problem of the handpans is that unlike piano it has a limited number of notes. That means that you need to take more drums to have a greater range of chords. The B RUS RAV Vast is like a small "piano" in a handpan world that gives you an opportunity to make your musical dreams and ideas real.
Specifications
B2 D3 F#3 A3 C#4 D4 E4 F#4 A4
Model: RAV Vast 2, new 2019 model, with hydrophobic protection and golden band
Scale: B RUS
Notes: B2 D3 F#3 A3 C#4 D4 E4 F#4 A4
Material: 2 mm steel
Diameter: 51 cm
Height: 17 cm
Weight: 5.9 kg
Shipping Costs 
Free shipping in Canada
Call for a shipping rate in the USA or abroad. (starting at $85)