Fibonacci Upgrade to the Solar Harmonic Set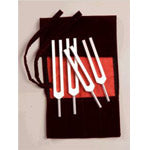 The Solar Fibonacci Upgrade consists of four tuning forks that extend the Solar Harmonic SET deeper into the Fibonacci spiral. They are designed to resonate with the pathway of consciousness from the sphenoid/pituitary axis to the pineal gland. Their main purpose is to open gateways into alternate realities and to explore higher states of consciousness in order to empower a creative healing response. For this reason, they are excellent sound healing instruments, especially when they are used for working with creativity, vision quests, addictions, and healing traumas.
Two ways to get the full Fibonacci Set.
PLAN ONE
1) Buy the Leonardo Set  C (1/1),  F,  G (2/3), A (3/5)
2) Buy the Solar Harmonic Upgrade   D, E, B, C(1/2)
3) Buy this Fibonacci Upgrade  5/8, 8/13, 13/21, 21/34
PLAN TWO
1) Buy the Solar Harmonic Set C (1/1), D, E,  F,  G (2/3), A (3/5), B, C (1/2)
3) Buy this Fibonacci Upgrade  5/8, 8/13, 13/21, 21/34
Shipping Rates
If you are purchasing more than just Biosonics products please call us for a shipping rate.  We can pack your tuning forks and books into the other boxes and save you on shipping.
Shipping in Canada
For orders under $250, shipping is $23
Free shipping on orders over $250

Shipping to the USA
Shipping to the USA varies from state to state and can range from $23 and up. Please call or send us your town, state and zip code and we will give you an accurate rate. 
Our Guarantee
We want you to be 100% satisfied with your purchase.
If for some reason you are not happy, please call us. We want you to love what you buy, and we are happy to work with you to find the perfect item.
If you want to return or exchange an item, you have 15 days from date of arrival to return it. Shipping is at your expense. It must arrive to us in the same condition as when it was shipped out. Once we have received your returned item, and have inspected it, we will issue a full refund.