Meet Us
We are a Husband & Wife team who have lots of experience with music education, sound practitioner skills and entrepreneurship! We are happy to say that we have retired from our hectic 9 to 5 jobs. Now, we just have fun educating people and selling these most awesome sound healing instruments. Operating THE SOUND HEALING INSTRUMENT SHOP is not a job for us, its just plain fun. The bonus is- we get to play with all the instruments whenever we are inspired!
Denise
Musician - EDUCATOR - Sound Practitioner
"Get a hobby!" That is what everyone said to me as I neared retirement. So, I listened. Really, really, well. Now I split my time between playing with my grand baby, taking the dogs for a walk and sharing my love of music with you!
I have a degree in Music, 30+ years experience in teaching music in the elementary school, as well as training and experience in Sound Therapy. I can honestly say I really know our products and how they are used.
Ivan
The Artist - Master Packer
I love being creative.  Woodworking is my love but I am always looking for a new venture.  I have fun being creative as I build the furniture for both the singing bowl room and the gong room.  Now I am exploring making custom gong stands and a few other fun surprises.  I am also the master packer, making sure your instruments are shipped safely to you.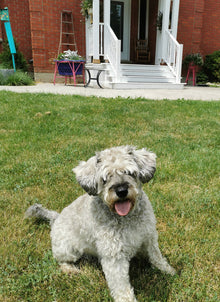 Chester
Security
Chester is our on-site 24/7 Security Guard. He gets paid in belly rubs, and uses his break time to chase squirrels. He is a happy-yappy Poodle/Schnauzer mix. Chester loves to greet everyone with a bark and a howl, and is happiest when he is exploring nature!
Theo & Felix
Cat Therapists
Are you feeling stressed? Theo, our 21lb Abyssinian cross, and Felix our 11 lb Maine Coon cross are the our in-house cat therapists.
If you are lucky, they will come visit and cuddle right up to you.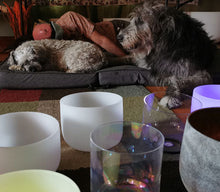 Daisy 2013 - 2022
Senior Groupie
Daisy was our groupie - she loved the sound baths and had to be where all the action is. You can see her in many of our videos, frequently walking into the room and laying down in the middle of a recording.
She was always excited to meet new people when they came to our store. She will be greatly missed. She is our lovable, sweet natured Irish Wolfhound!