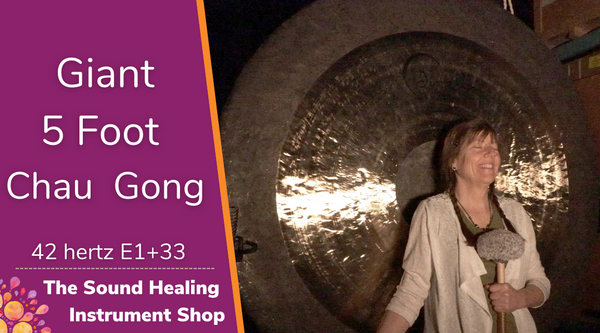 60" Dream Chau Gong
Weight : around 160 lbs
Not many people can say "I'm going to the warehouse to record a 60" gong today." I love my job! It was so much fun experiencing the majestic power of this 5 foot Chinese Bronze gong. Dream Gongs are know for their high quality gongs and this one does not disappoint. It sings a deep low first octave E+33% or 42 hertz. Jump to 5:27 to hear stunning whale sounds from the Bear Love Flumies. I used a variety of Dragonfly Percussion Mallets and Bear Love Flumies. I would be happy to offer a free consultation to help you choose the correct mallets for this or any other gong. Shipping across Canada is around $500 this year, so it can be at your place in less than two weeks if you like! Live in the USA? No problem we can ship there too... and in 2023, your dollar is much better than ours, so you save about 30% off the price of the gong.
The Dream brand is well known in the orchestral world for it's quality instruments. A recent client relayed a story about how she was telling the percussionists in her orchestra that she was looking at purchasing a Dream gong and they had some very glowing words to share with her about this brand. They encouraged her to make her purchase if she liked the sound of her gong. We love Dream gongs too. 
Our Guarantee
We want you to be 100% satisfied with your purchase.
If for some reason you are not happy, please call us. We want you to love what you buy, and we are happy to work with you to find the perfect item.
 It must arrive to us in the same condition as when it was shipped out.
Stand Options
 We do not have a gong stand for this gong. This is something you will need to build yourself as the gong is very heavy.
Shipping Costs

Please contact us for shipping arrangements. 

We had a recent quote for shipping from Ontario to Kelowna BC at around $500