Large Swinging Wing Chime - CIRCLE - 8 Bar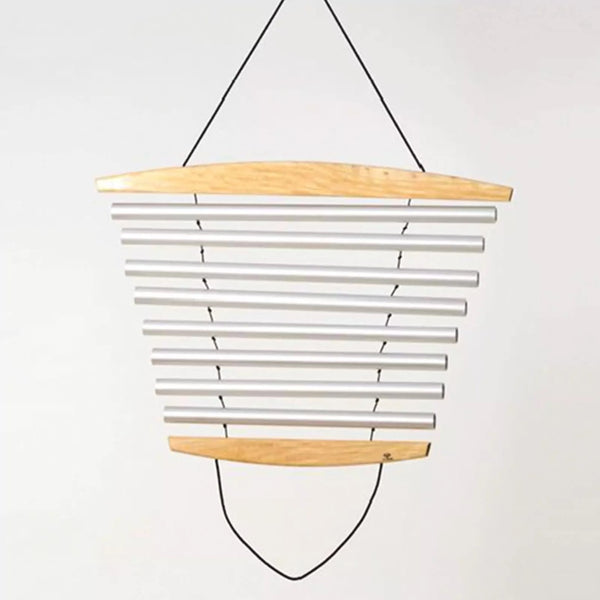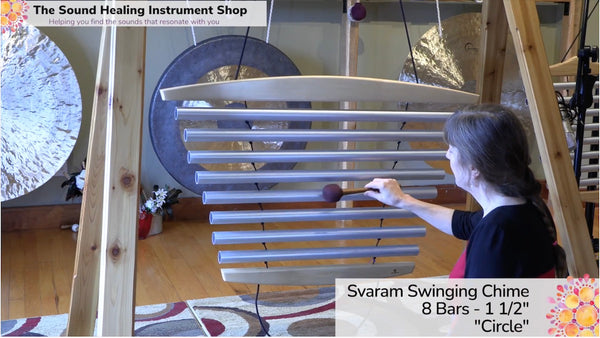 Tuning is in the A=432 system
C4 - D4 - D#4 - F4 -  G4 - A4 - A#4 - C5
Sound Circle 1 1/2″ 8 Bar:  In this primal all embracing octave the Greek ideal of man is exemplified: gentle, sensitive and compassionate inside, while strong, straightforward and clear in the dealings with the world. This Dorian scale is an interesting combination of the musical minor and major mode and represents balance and symmetry and can be used to align the inner centers of energy according to its archetypal intervals and integrative matrix.
Width: 103 cm Depth: 3 cm Height: 66 cm (114 cm with string)
This pioneering musical instrument is one of SVARAM's NEW WAVES innovations based on harmonic, just intonation Shruti tunings on C 256 Hertz. (Traditional A=440 tuned instruments have the C 261.6 Hertz with Equal temperament) The Chimes can be swung gently, rotated, traversed, looped, swayed around and over the body and create an immediately "touching" experience of the magic of a spherical sound in its layered consistency and its wholesome harmonizing effect.
What are the notes of the other wing chimes?
8 Bars Path : C4 - D4 - E4 - F4 - G4 - G#4 - A#4 - C5
8 Bars Circle : C4 - D4 - D#4 - F4 - G4 - A4 - A#4 - C5
9 Bars Ray: C4 - D4 - E4 - F4 - G4 - G#4 - A4 - B4 - C5
9 Bars Spiral : C4 - D4 - E4 - G4 - A4 - C5 - D5 - E5 - G5