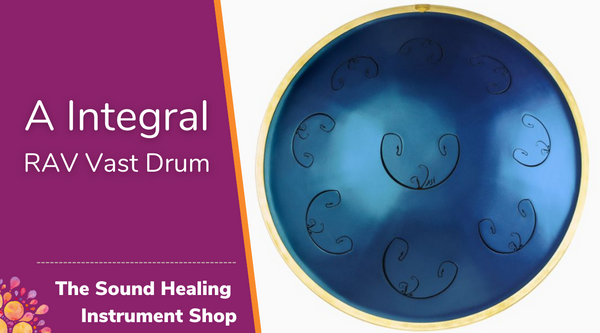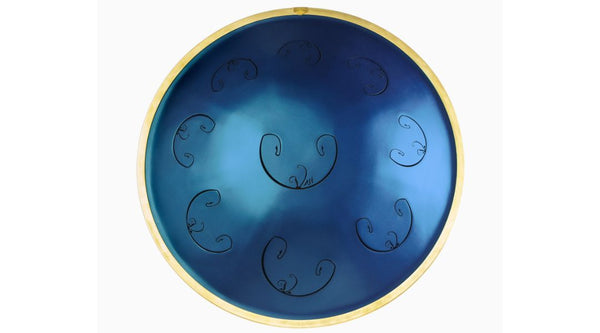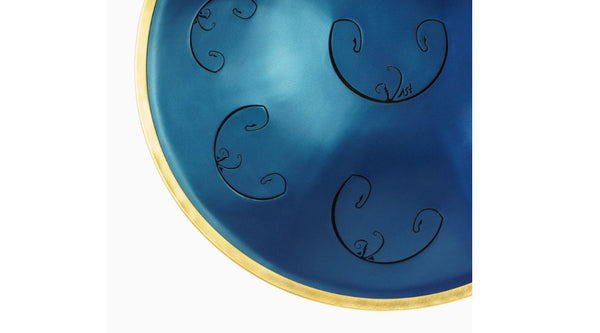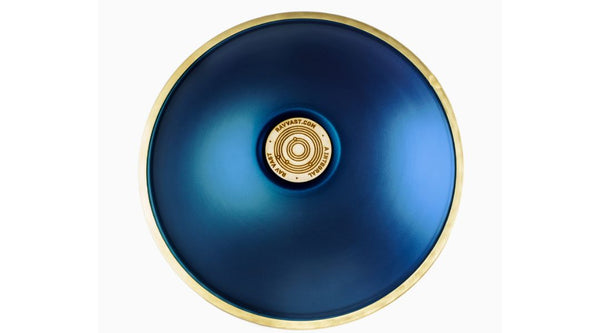 A2 C3 E3 F3 G3 A3 B3 C4 E4
Free shipping in Canada!  Call for shipping rate to USA and abroad.
or book an appointment to come and play at our shop in Beamsville, Ontario, Canada.
Deep, mystical, mellow – we use these exact epithets when describing A Integral RAV Vast. 
It's an excellent scale for professional musicians. It offers you a choice between a major and minor key, thus can create two different moods. The Ding is tuned in A2, the rest notes – in the 3rd and 4th octaves.
The experienced drummers and handpan owners will appreciate its relaxing sound. It's a godsend for those who are looking for an accompaniment for meditation sessions. This drum is perfect for sound-healing practices, music therapy and yoga due to its deep enigmatic sound and incredibly long sustain, which is longer than in the other RAV Vasts.
It matches well with the D Major, C Golden Gate, D Celtic Minor scales. If you want to immerse the listeners in an intense sound, play in duet with the E Low Pygmy RAV Vast.
For whom this scale will work?
This scale will instantly become one of the favourites in the collection of advanced musicians. If you are already familiar with playing the tongue drum or any other hand drum, you'll love the A Integral for the challenge it will be for you and the opportunities it will provide. This scale may be a little bit tricky to deal with due to the semitones. It's not the most manageable scale among the other RAV Vasts, however with just a little practice, there's nothing complicated to acquire the A Integral and come up with songs on it.
This scale will work perfectly for the slow, meditative type of playing. The A integral is the best instrument for meditation, relaxation, and mystical music experiences. If you have already practised meditation or wish to begin, A Integral will be of great support (or even motivation to start). Still, it's also great for playing along with the pop songs and minor-sounding alternative rock that have a darker feel.
What makes the A Integral so unique compared to other scales?
The A Integral is an enigmatic scale with inimitable energy. It has a dark melodic sound and provides listeners with an esoteric state of mind. What makes it different from other RAV Vasts? First, this steel drum has a meditative and hypnotising sound. Second, this scale refers to Native American culture. When we were creating A Integral, we imagined a lonely horseman looking for a way home through a deserted prairie.
It is also an exciting scale from the technical point of view. You can easily change between the minor and major keys depending on which note you use as a root one. If you involve the Ding in playing, you get more meditative melodies. If you choose the bottom C3 note, you can get a C Major sound.
The secret of RAV Vast is in the special steel that is used to create a unique sound. The RAV Vast A Integral is made out of steel of 1.5 mm compared to the usual 2 mm thickness of the other RAV Vasts. The thinner shell provides incredible sound depth and longevity. In addition, the perfectly shaped steel tongues harmonise to create an ethereal sound perfect for meditation and composing music. It is also one of the lightest drums among the ravs (the weight of the A Integral is 4.9 kg only, while the average RAV Vast weight is 5.9 kg). So it is perfect for playing not only in the backyard of your house but somewhere in the forest, the mountains or by a waterfall.
What scales go together with the A Integral?
You can play a perfect solo using the A integral. However, this scale is friendly to be accompanied by other instruments. It matches perfectly with many RAV Vasts, especially the E Low Pygmy, C Golden Gate, D Major. When pairing it with D Celtic Minor, keep in mind that these two have different sustain.
As for the other instruments, A Integral creates a good duet with guitar and violin. Violins are tuned to GDAE, so a violinist would match the scale perfectly as he will find the same notes in A Integral. For those interested in accompaniment with guitar players, the A Integral scale offers many chordal combinations, as it contains the notes ABCEFG, which is close to the natural minor scale. The melodies based on A Minor typically have a pensive and mysterious mood. Or you can play it on the C major scale when you use the bottom note (the C) as the anchoring note. It's an excellent choice for players looking for a unique scale with both a major and minor feel inside!

What kind of music can be performed with the A Integral?
If you want to experiment with some ethnic instruments, the A Integral scale also works well with Native American-style flute as this scale belongs to American music culture.
It is one of the most melancholic scales RAV offers. If this mood stands out to you, lay doubts to rest and choose the A Integral RAV Vast.
Specifications
A2 C3 E3 F3 G3 A3 B3 C4 E4
Model: RAV Vast, new 2019 model, with hydrophobic protection and golden band
Scale: A Integral
Notes: A2 C3 E3 F3 G3 A3 B3 C4 E4
Material: 1.5 mm steel
Diameter: 51 cm
Height: 17 cm
Weight: 4.9 kg
Shipping Costs 
Free shipping in Canada
Call for a shipping rate in the USA or abroad. Starting at $85