Dragonfly Mallets - Resonance Small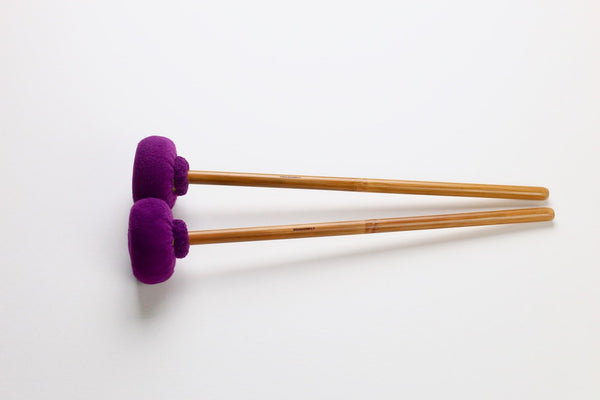 Dragonfly Mallets - Resonance Series Small
* SOLD AS A SINGLE MALLET, however they are best played as a rolling pair.
These diminutive little mallets are perfect for expanding the timbral palette of any gong.  The thin fiberglass handles are super comfortable in the hand and minimize any contact sound.  Because these mallets are quite small, they're ideal for drawing lots of higher overtones from your gong. These also sound and feel fantastic on singing bowls, eliciting a clear, pure tone.  Perfect for single-notes on a variety of sizes of both Himalayan and crystal bowls.  The short, thin handles are comfortable in the hand and very easy to play.  The slight flexibility of the fiberglass ensures a beautiful sound quality at all times.Small rubber disc-shaped core covered in layers of soft felt and fleece on bamboo handles (14" length). Designed to be used as a pair- these sticks are light and maneuverable and pull a wide spectrum of overtones from a range of gongs. The 14" bamboo handles are smooth and comfortable in the hand. They are resilient off the surface of the gong and elicit a fast response.
What do Dragonfly mallets sound like?
Did you know that most gong owners own a large collection of mallets. That is because each mallets brings out different tones in the gong.  A big soft mallet dampens the tiny sound waves so you hear the really low tones. A big mallet with a hard core still brings out the deep tones but also lets you hear the attack.   Tiny mallets allow the higher tones to sing stronger.   Check out this vide and hear how each mallets sounds. 
Our Guarantee
We want you to be 100% satisfied with your purchase.
If for some reason you are not happy, please call us. We want you to love what you buy, and we are happy to work with you to find the perfect item.
If you want to return or exchange an item, and it is in perfect condition, just give us a call. Shipping is at your expense. It must arrive to us in the same condition as when it was shipped out. Once we have received your returned item, and have inspected it, we will issue a full refund.
SHIPPING RATES
Shipping in Canada
We can pack several items into one box. For orders under $250, shipping is $23
Free shipping on orders over $250 (Gongs are not eligible for free shipping)

Shipping to the USA
Shipping to the USA varies from state to state and can range from $23 and up. Please call or send us your town, state and zip code and we will give you an accurate rate.