Flower of Life Padded Bag and Scarf for Singing Bowls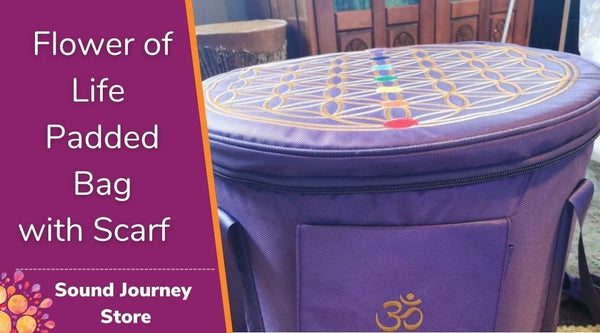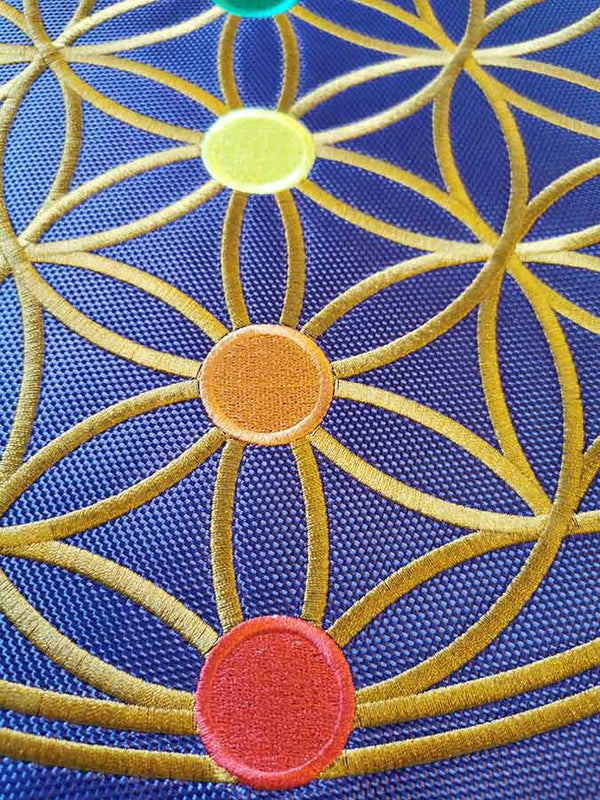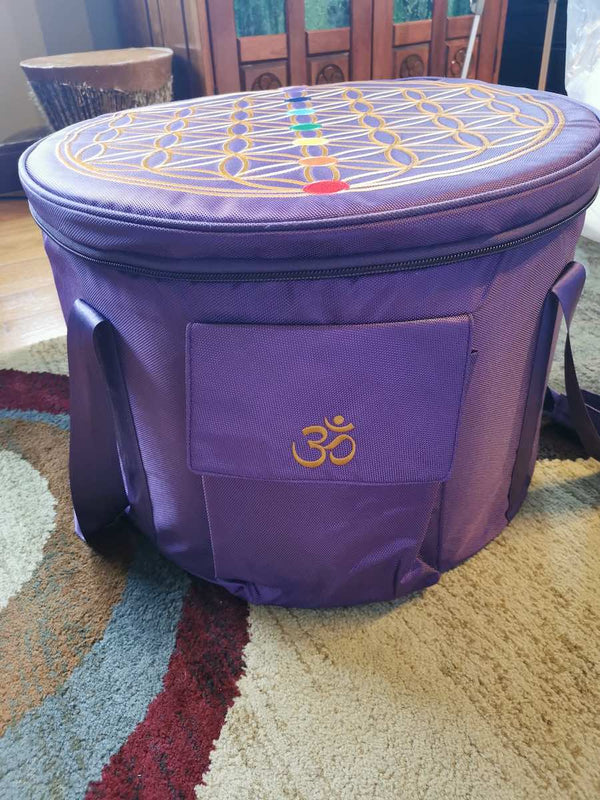 *** Free shipping on orders over $250***
The bag comes with a scarf to make it easy to lift your bowl out of the bag. 
Imagine the joy of carrying your precious crystal singing bowls in a bag, surrounded by sacred geometry of the the Flower of Life and the colourful chakra wheels.  All while knowing that your singing bowls are perfectly safe during transportation.  It's a breath of joy and relaxation all at the same time. 
Why use a Padded Bag?

Imagine walking into a studio with your bags stacked into two or three beautiful embroidered bags.  People will be curious and excited to see what mysterious items you have in store for them. Oh the excitement!  Once you have unpacked, you can lay the bags on their sides to display the sacred geometry of the Flower of Life pattern and the chakra wheels.
These Flower of Life padded bags add a touch of class to your practice. They are a convenient way to transport your bowls to different venues. You can stack three bowls nesting in one bag, providing that there is a 2" gap in size between the bowls. We provide bubble wrap or you can use a blanket to protect your bowls when they are nested.
What Materials are used in this bag?
These bags are made from high quality nylon canvas and embroidery thread.  The base of the bag has rubber feet to help keep the canvas clean from floor dust.  The embroidery is machine done with a tight stitch for a professional look. The colours in the chakra circles and the golden sacred geometry on top.
Are you on a  tight budget?
If you are on a tight budget, and need to decide between buying a padded bag for your crystal singing bowl or buying another instrument, we suggest that you opt for the other instrument.  Until you have large collection, hearing one more bowl might be more important than having a nice bag on display. While we would love to sell you everything in the store, rest assured, your crystal singing bowl can be stored and travel safely in the protective molded foam insert and cardboard box that we ship it in. You can always order a padded bag at a later date.
Are you feeling a little overwhelmed? Need help making a decision?
No problem at all. Just give me a call.  I would be happy to help you determine what is the best choice for your needs. 905-563-3234
Our Guarantee
We want you to be 100% satisfied with your purchase.
If for some reason you are not happy, please call us. We want you to love what you buy, and we are happy to work with you to find the perfect item.
If you want to return or exchange an item, you have 15 days from date of arrival to return it. Shipping is at your expense. It must arrive to us in the same condition as when it was shipped out. Once we have received your returned item, and have inspected it, we will issue a full refund.