Seed Tongue Drum - C Major Pentatonic "Red"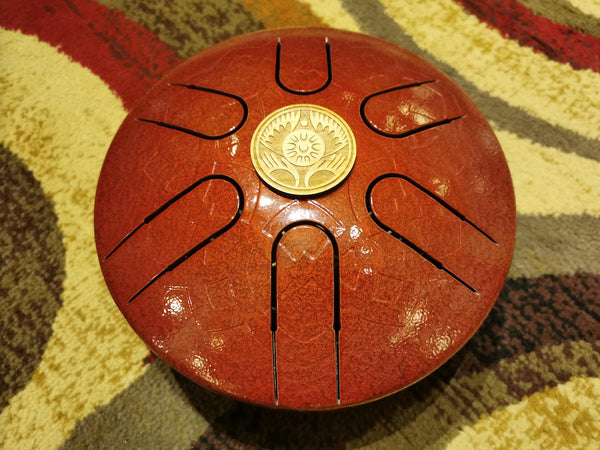 The Seed tongue drum for sale is in burgundy red and not orange.
The orange one in the video is for you to hear how it sounds. 
Plant the seed of music with this small, light, and portable instrument. Accessible to musicians of all ages and ranges, the seed series is the perfect drum to grab and go for any occasion, sprouting joy and levity with its bright and cheerful tones.

The Seed Series is a beautiful steel-tongue drum made from heat-treated carbon-steel, with 6 notes, and is our smallest instrument. This instrument is compact, exquisite and makes a great gift! *This is our only product without an installed pick up system.
8" x 4.5", 6 Notes, 6.0lbs.
How to play a tongue drum
The notes are laid out on each of the drums so that you can create a most beautiful melody by starting at the bottom and alternating right and left hands as you go around the instrument.  You can also play a beautiful tune by moving around the instrument in a circular manner. 
Watch a video that I made while out in the forest.  I offer a few different ideas to create your own tunes.
Custom Orders
Are you looking for a model or scale not listed on our website? No problem.  We can custom order a drum for you. 
 Listen to our playlist of some of the models that we have had in our store.
Visit the Kindred Spirit Steel Drum Website and look at all your options and then give us a call.
 Shipping
Free shipping in Canada

Shipping to US is $45
For all other locations, please send us an email to relax@niagarasingingbowls.com