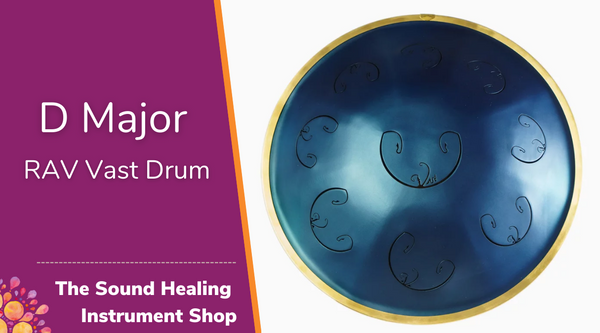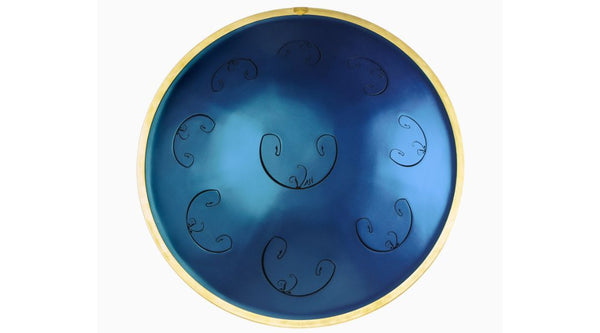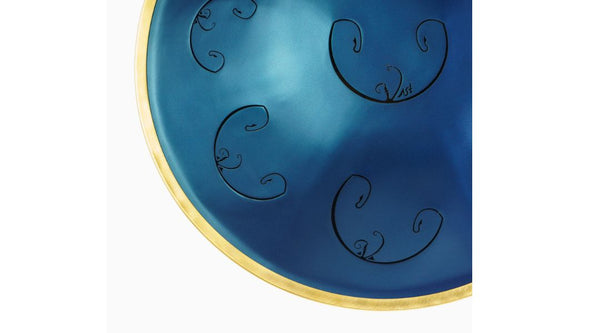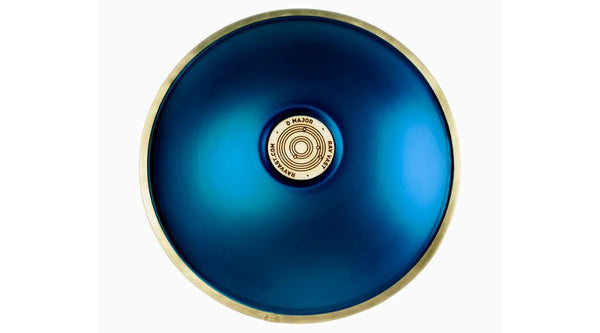 D3 G3 A3 B3 C#4 D4 E4 F#4 A4
Free shipping in Canada!  Call for shipping rate to USA and abroad.
or book an appointment to come and play at our shop in Beamsville, Ontario, Canada.
A cheerful and uplifting timbre and simplicity in learning – that is what makes it the all-time favourite scale among beginners and professional musicians.
The drum produces melodies with a soft but joyous sound with a slightly melancholic feeling, like a wave of bright memories about the good old times. And like any nostalgia, these melodies evoke a bittersweet sense of happiness.
The sound of this drum can remind you of the B Celtic Minor. However, it has a different, unique voice. The central bass tongue is tuned in D. The eight notes are tuned in the 3rd and 4th octaves.
For whom this scale will work?
The D Major is one of the most popular scales for beginners looking forward to learning to play steel tongue drums. Buy D Major RAV Vast, and you will invest in your growth and good mood. This scale is easy and fast to learn, is suitable for intuitive playing, and provides many options for improvisation. Moreover, as the voice of the drum is not too gloomy or ethnic, you can play melodies of different genres and moods. And you, as a beginner, do not need to choose: with this scale, you can express the whole spectrum of emotions!
D Major is also a good option for a professional musician who is searching for a full-sound instrument. This scale is quite versatile and, as such, leaves room for your music experiments and compositions, especially if you do a lot of collaboration with other musicians. As the D Major is a popular scale used in many music compositions, you'll quickly jump into any music band and be able to uphold the repertoire. It works perfectly with many musical instruments but makes the most incredible duet with guitars.
What makes the D Major so unique compared to other scales?
If you have been searching for a "happy-sounding" tongue drum – then you've found the right one! The D Major is a very positive scale that sounds just like your most favourite a pop-song. The D Major looks similar to the B Celtic with the different middle and first note. Still, the D major has its own unique and more lively and joyful voice. This scale is perfect for creating fast melodies and composing quick-timbre songs.
Another great thing about the D Major is that you can choose between two different moods. On the one hand, you can create a more melancholic, soothing and nostalgic feel using the bottom note as a root chord. But, on the other – genuinely grand, uplifting melodies using the Ding as the key note. So, do not be shy and play this tune loudly, to feel the world with happiness!
Due to the special steel that is used for drum manufacturing, the sound turns out to be loud with an extremely long sustain. In addition, all the notes match each other harmonically when played together. Hence, any melody will be music to one's ears. Literally!
There is a great and simple way to vary your technique. You can play using combinations of two notes (dyads), including the Ding and side or bottom notes. Or try playing by triads (3 notes) using the adjacent steel tongues.
What scales go together with the D Major?
What if we say that you've already heard a lot of music compositions composed in D Major? The D Major is thought to be a "pop" tonality. Queen's "The Show Must Go On", The Eagles' "Hotel California", and U2's "With or Without You" were all created using the D Major. But not only pop composers use this tonality when creating songs. The D Major is famous for being a monopolist tonality for violins as its D string produces a brilliant sound while resonating with its open strings. So there's no wonder why great composers like Mozart, Paganini, Tchaikovsky and Beethoven created D Major violin concerts.
The D Major is also known as "the key of glory", as composers chose it in the Baroque period as a key for trumpet concertos. And after, in the Romantic period, it was used as the final credits of many symphonies by Beethoven, Rachmaninoff, Franck and others.
What kind of music can be performed with the D Major?
Western musical culture inspired us to create this drum. The D Major scale is commonly used in European classical music because this key is the base for violin music. That is why it was especially popular during the Baroque period.
Specifications
D3 G3 A3 B3 C#4 D4 E4 F#4 A4
Model: RAV Vast 2, new 2019 model, with hydrophobic protection and golden band
Scale: D Major
Notes: D3 G3 A3 B3 C#4 D4 E4 F#4 A4
Material: 2 mm steel
Diameter: 51 cm
Height: 17 cm
Weight: 5.9 kg
Shipping Costs 
Free shipping in Canada
Call for a shipping rate in the USA or abroad. Starting at $85