Introduction to Sound Healing Instruments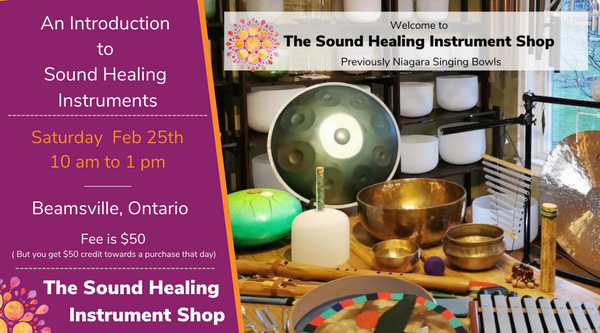 Are you curious about the instruments used in a sound bath?
Would you like to try you hand at playing a singing bowl, a gong or chimes? At this introductory 3 hour workshop, you will have a chance to learn the basics of how to play a variety of soothing sounds on singing bowls, gongs, chimes and more.

Limited to 6 people, this will be a fun and intimate group setting where you can get 1:1 attention.
Come have fun and explore many of the instruments in our shop.
The fee is $50, but you will be given a $50 coupon to use for shopping the day.
This will be held at the Sound Healing Instrument Shop at 3980 Mountainview Road, Beamsville, Ontario L0R 1B2