Bowl 509: D3+25 Himalayan Singing Bowl 149 HZ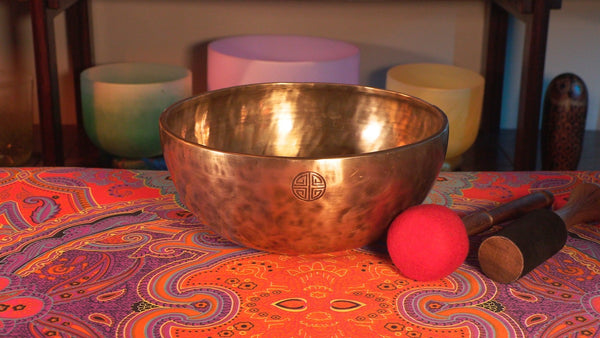 Bowl 508: F#3-28 Himalayan Singing Bowl 182 HZ
Size 10.25
Weight 2242 g
All our our Himalayan singing bowls bowls are guaranteed to play easily. When we shop for our bowls, we hand pick each one, rejecting many beautiful looking bowls because they don't play or sing well.
Different tones can be produced with different mallets. Each bowl comes with a rubber mat and a wooden and suede mallet. If you wish to produce the deep tones, we suggest you purchase a Red Felt Mallet. For softer high tones we suggest the tiny mallet. These are available in the accessories section of the Himalayan Collection.
You can sing your bowl in your hand, on your body or on table. When played on a table you should put your bowl on a rubber ring, rubber mat or one of our handmade Nepal cotton buckwheat pads. Your bowl comes with he rubber mat and the rubber ring. The buckwheat pads are available in the accessories section of the Himalayan Collection
If you are overwhelmed with trying to pick a Himalayan singing bowl, just give us a call. We would be happy to help you out.
How can I tell if this is a good bowl?

There are three kinds of Himalayan singing bowls out there. Cheap bowls, good bowls and excellent but very expensive bowls. We are proud to say we sell the good ones. Here is why.
Cheap bowls: Not sold here! Cheap bowls need to be tapped first to make them sing. That is the only way to get them to sing. Some sellers will say "It is waiting for the person with the right energy".... Nope, it is just a cheap bowl that doesn't like to sing. If you know the right technique to get a metal bowl to sing and the bowl won't sing for you, then it is just a cheap bowl. It is great as a bell, but needs coaxing to sing which can be very frustrating when trying to meditate. Sadly, there are many of these bowls on the market.
Good bowls: That's what we have! Imagine you are about to start a meditation. You pick up your beautiful Himalayan singing bowl and you rub the mallet around the outside and... it sings! It sings a beautiful rich tone with warm overtones that helps guide you into relaxation and meditation. Yup! That is what we sell. We hand pick each of our Himalayan singing bowls, making sure they sing easily and a beautiful sound is created with very little effort. They can have 5-7 overtones. These bowls are priced reasonably for the average person to purchase.
Excellent bowls are very hard to find and are super expensive. We have been told that about only 1-2% of all the Himalayan singing bowls fall into this category. They are super rich in overtones, barely need to be touched to sing, but are very expensive. If you are searching for an expensive, one of a kind bowl, let us know and we will see if we can help you find one.
Our Guarantee
We want you to be 100% satisfied with your purchase.
If for some reason you are not happy, please call us. We want you to love what you buy, and we are happy to work with you to find the perfect item.
If you want to return or exchange an item, you have 15 days from date of arrival to return it. Shipping is at your expense. It must arrive to us in the same condition as when it was shipped out. Once we have received your returned item, and have inspected it, we will issue a full refund.
Shipping Costs

We offer free shipping to all locations in Canada.
Discounted shipping rates are offered to our customers in the USA. Please call for shipping to other countries.
Shipping to USA Addresses
5" to 8" Bowl - $15 Can (USA Address)
9" to 10" Bowl - $20 Can (USA Address)
11" to12" Bowl - $25 Can (USA Address)