32" Dream Wind Gong No 4 C2-38 64 Hertz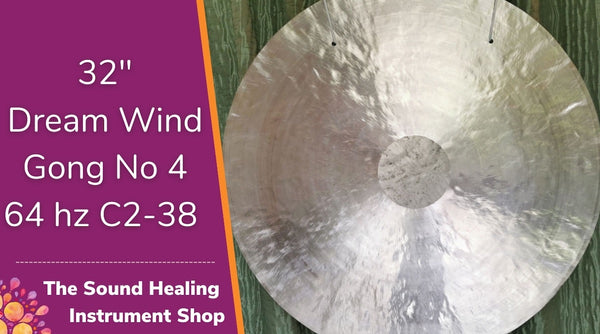 32" Dream Wind Gong No 4 C2-38 64 Hertz
Please call if you would like me to make you a video of this gong.
Each gong comes with one traditional Chinese mallet. Players are encouraged to try the Dragonfly teal medium soft mallet to pull out deep tones and white and blue bunny tails for softer higher tones. Gong Stands are extra.
Our Guarantee
We want you to be 100% satisfied with your purchase.
If for some reason you are not happy, please call us. We want you to love what you buy, and we are happy to work with you to find the perfect item.
If you want to return or exchange an item, it must arrive to us in the same condition as when it was shipped out.
Stand Options
If you would like to display your gong on a stand, please call us and we can help you decide which stand would be the best option for your purposes. 
Custom Made Gong Stand. These are excellent stands that can be modified as your gong inventory grows. They take only minutes to assemble and are easily transportable. View the Custom Stands here.
Shipping Costs

12" to 24" Gong- $55 (Canada Address) & $80 Can (USA Address)
26" to 30" Gong- $85 (Canada Address) & $110 Can (USA Address)
32" to 34" Gong- $95 (Canada Address) & $125 Can (USA Address)
36" Gong- $110 (Canada Address) & $135 Can (USA Address)
38" or larger, please contact us.
If you purchase a gong, use this code to get free shipping on an accompanying mallet: Free Gong Mallet Shipping
If you purchase a gong, use this code to get free shipping on an accompanying bag: Free Gong Bag Shipping