10" 8 Note Traveler : A minor Kindred Spirit Tongue Drum *Bronze*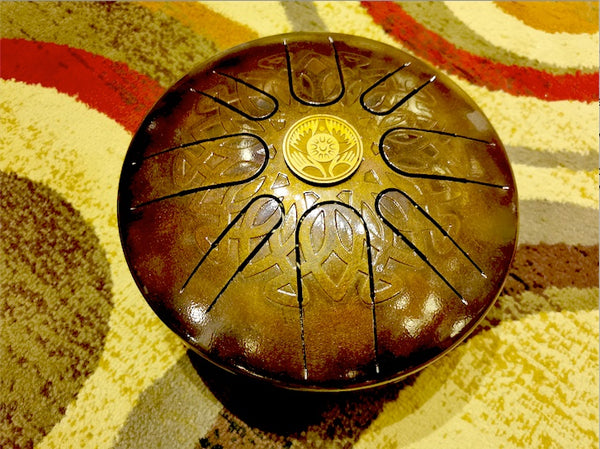 This Traveler tongue drum is in the bronze colour.  
The orange in the video is for a sound sample only.
Hand made in British Columbia by talented artist Brynn Klingwall of Kindred Spirit Steel Drums
This 12" 8 note Primordial in F Aeolian is a beautiful steel-tongue drum made from
The traveler series is ideal for those seeking a lightweight and portable tongue drum with a wider variety of available scales. Create a beautiful soundtrack to your travels through life with these compact and versatile instruments!

The Traveler Series is a charming steel tongue drum made from heat-treated carbon-steel, with 8 notes, and is one of our smaller products. It has bright and clear notes, and with the added pick up is a great instrument to take out into the world for musical journeys. Available in 4 Diatonic scales.
10" x 5", 8 Notes, 8lbs.
Standard Features Include:

An internal and external powder-coated finish (Base and top-coat), an internal rubber dampening system, a wooden laser-cut emblem and sound-hole plug to improve the bass frequencies, rubber feet, instructional booklet, and a set of house-made mallets.
How to play a tongue drum
The notes are laid out on each of the drums so that you can create a most beautiful melody by starting at the bottom and alternating right and left hands as you go around the instrument.  You can also play a beautiful tune by moving around the instrument in a circular manner. 
Watch a video that I made while out in the forest.  I offer a few different ideas to create your own tunes.
Custom Orders
Are you looking for a model or scale not listed on our website? No problem.  We can custom order a drum for you. 
 Listen to our playlist of some of the models that we have had in our store.
Visit the Kindred Spirit Steel Drum Website and look at all your options and then give us a call.
 Shipping
Free shipping to all locations in Canada  
Shipping to US is $45
For all other locations, please send us an email to relax@niagarasingingbowls.com